Atheists Convert!
I am not an atheist, let me start out by saying that. Besides being the holy leader of the Church of Judas, I am agnostic. This thread is a call to all atheists. Agnosticism is more logical than atheism. It's time to convert. A few things to consider,
The universe is an extraordinary place to live and there are nothing but possibilities here. In this place we live, it is possible to distort time and travel through it. There are black holes that inhale suns bigger than our entire solar system. There are wormholes that can move matter from one side of the universe to the other. We are organisms that have evolved into these primates with big brains that have learned to make fire, grow food, build cities, and create economies and industry. Now we are in the process of linking every human on the planet together through an electronic network. We are smashing particles together and detecting strings and other dimensions on top of our known 3 dimensions of space. We can peer into other galaxies and see what was going on millions of years ago through our telescopes. We are genetically creating organisms from scratch now.
All of this accumulated knowledge, gained over so many years, barely scratches the surface of what there is to know. Over the entire scope of human history, science is a brand new thing. 200 years ago if you wanted to see a picture of something, you had to draw it. Now we have robots roaming around the surface of mars.
Due to all this evidence of how unpredictable and extraordinary the universe that we live in really is, I think it's a mistake to say that anything is impossible, even a creator. No one knows what is possible and what is not, that being the case I believe it is more logical to call myself an agnostic. You know, 100 years ago people knew that space travel was impossible. 500 years ago, invisible germs that made make us sick were impossible. Let's not pretend that we are so smart as to know what is possible and what is not. Use your logic, join the church of I-don't-know.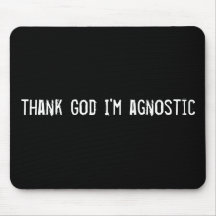 Agnosticism is more logical
The most inclusive and accurate definition of atheism is a lack of belief in God. You don't have to claim "there is no God" to be atheist, although of course many do.

Having a belief in God is a positive position, so even if you say "I-just-don't-know" you are still an atheist because you don't believe in God. It just makes you an agnostic atheist. The two are not mutually exclusive, and in my experience, the majority of atheists are agnostic ones.

Side: Agnosticism is more logical

Acting like you know anything is fairly dumb. Most people can't even figure out themselves, let alone the answer to -everything-

On that though, I'm not saying I think any religion is correct. They're more than likely not. S'big universe and all that. What makes our mudball so special?

Side: Agnosticism is more logical

supremepizza(1419)

Disputed

Atheism is just as closed minded as any other religion in many ways. Atheism takes the view that there is no creator/divine entity or what ever you want to call it, were as most religions claim to have the answer for it all. They both offer answers to questions which simply cannot be answered. An agnostic on the other hand neither believes nor disbelieves in the existence of a deity/divine entity, whereas as with with most religions they believe and in atheism they disbelieve. I take the view that right now no one knows the answer to questions regarding how the universe came into being, what reality is or why there is even a reality in the first place. There is simply no way of knowing with the current evidence available.

Side: Agnosticism is more logical

All that I have to say here is that we do not know for certain if a God exists or not. Theists say he does, atheists say he doesn't. The call for atheists to convert is thus natural for an agnostic person. What we want the atheists to acknowledge is that not everything can be expressed through knowledge, that there are many things which are sustained on faith alone, and that they should always be liberal enough to maintain a small corner of their "logic" in the belief that there may exist someone who is not bound by logic.

Side: Agnosticism is more logical

I have to reiterate the common position though I'm going to go beyond it. Atheism is the opposite of theism, a belief in a god. Thus if you do not actually believe in the existence of one, you're an atheist. Indeed, I'm pretty baffled why people bother so much with such an academic and philosophical detail about the limit of cognition. In everyday life the difference is nada, and IMHO is mostly a rhetorical trick to placate the theists. A softer position so to speak.

Personally, I'm an gnostic atheist and I believe it's the most open-minded and rational approach. Contrary? wait.

According to my dictionary a god is defined as: "— n

1. a supernatural being, who is worshipped as the controller of some part of the universe or some aspect of life in the world or is the personification of some force". Keyword supernatural. I believe that is a logical inconsistency. If there were a god he could be defined and measured, he would be natural, instead of supernatural.

Why for example is a god different than a powerful man if not for this fact?

Side: Atheism is more logical

I agree with Neil deGrasse Tyson. Atheism is completely unnecessary, as a concept.

I'm not a golfer, but there is no need for a non-golfing group that is actively against enjoying the game of golf. There is no need to label yourself a non anything. You should define yourself by who you are, not by who you are not. You don't put salt in the non-pepper shaker do you?

To me, there is a clear difference between an agnostic and an atheist. An atheist has made a decision not to believe in god. An agnostic is undecided, he does not actively believe or disbelieve anything. This is the way a truly scientific mind should look at life, objectively, without bias, blindly following the evidence.

http://www.youtube.com/watch?v=CzSMC5rWvos

Side: Agnosticism is more logical

I'm not a golfer, but there is no need for a non-golfing group that is actively against enjoying the game of golf.

Kind of. Except that historically if one does not like golf, or likes golf better then tennis, or likes ping pong, they are not told to kill one another. They also do not tell children from a young age golf is great and if they don't think golf is great they are going to hell. Golf also does not constantly feel the need to inject itself into laws that effect people whether they are into golf or not.

So not really a precise comparison. I sort of get the idea of the point, but it's not equivalent.

There is no need to label yourself a non anything. You should define yourself by who you are, not by who you are not. You don't put salt in the non-pepper shaker do you?

Isn't there? If you're in a country where you do not speak their language yet everyone tries to speak to you in that language, eventually they would assume you don't speak the language. Then they get a translator and you don't speak that language, then another and so on. Would there be value in being able to communicate you speak none of the languages?

An atheist has made a decision not to believe in god. An agnostic is undecided, he does not actively believe or disbelieve anything. This is the way a truly scientific mind should look at life, objectively, without bias, blindly following the evidence.

This is a way a scientific mind should look at life up to the point where enough evidence is gathered. However, I could as easily say this about evolution (and it is precisely what theists often say not ironically) yeah, we have all of this evidence but there could still be something else we don't know. You could say that about everything from the rotation of the earth to the color of the sky.

If there is some yet-unknown evidence some type of god exists there is no "atheist doctrine" which dictates an atheist could not change their mind, but a more apt comparison between agnostic and atheist is not the non-salt shaker vs pepper shaker, it is "No, evolution is real here's the evidence" vs "I don't know, there could be something else and I'm not going along with that whole evolution thing just yet..."

Side: Atheism is more logical

Were you born with the knowledge about some gods? Were you born with inherent belief in a god? No and no. If so then why should theism or anything but "there is no god" be right?

Where do you think the idea of a god came from if every human is born without the knowledge of one? Imagination. It's all fantasy.

The only way to have some "knowledge" about some god is to first have that knowledge made up by a human.

Side: Atheism is more logical

user554random(1176)

Disputed

The only reason atheism exists is because definition was first given to the belief in gods - theism. Then was created the word for what preceded theism - atheism - godless, basically. We are all born atheistic, this is an irrefutable fact. No one is born with the belief in gods, or any knowledge of them.

Being atheistic requires no knowledge of it. While being theistic does, you literally cannot be a theist without having heard and learned of it.

And agnosticism, it requires first having learned about what theism stands for, and then also keeping in mind that it might all be wrong.

We are all born atheistic.

Side: Atheism is more logical

As has already been stated, atheism and agnosticism are not mutually exclusive.

Which position is more logical? Both. We cannot know with absolute certainty if there is or is not a god, but given all the evidence (or lack of evidence) our current best guess is that a god does not exist.

Side: Atheism is more logical

I think I'm going to go with the genius astrophysicist on this one.

I never implied atheism and agnosticism are mutually exclusive, I implied that one is retarded, which it is.

We cannot know with absolute certainty

We can't know with any certainty, and that is exactly agnosticism. Making any assertions about the existence of god is foolish.

Side: Agnosticism is more logical

As someone has already pointed out the majority of atheists will be agnostic atheists, which is that the don't think god exists but are not totally sure. That being said i do think Bertrand Russell's teapot analogy sums it up you cannot prove that there isn't a teapot in orbit around the sun, too small to be seen by our telescopes, but does that mean you should be agnostic about that teapot?

Side: Atheism is more logical

Yes, you should be agnostic about the teapot. Considering the extraordinary nature of the universe where literally anything is possible, we cannot conclude that there are no tea pouring devices orbiting the sun.

If they could travel fast enough, is possible that you become older than your own grandparents. If another civilization has been monitoring us for thousands of years, we may be able to "rewind the tape" one day and watch our own history unfold. I think one day space travel will be so prolific that tea pots and other human debris will absolutely orbit large masses. The universe is such a crazy place. If a giant ham sandwich came out of no where and wiped out half our solar system, I wouldn't be THAT surprised.

Are you saying that it is not possible that a tea pot is orbiting the sun? Is that what you are saying?

Side: Agnosticism is more logical

You can not prove anything with 100% certainty so I'm guessing you are agnostic about absolutely everything?

and looking into your second and third paragraphs.

1) if you travel really fast it would not make you older then your grandparents.

2) Whilst there might be some alien civilization monitoring us, why should we think there is?

There is no evidence supporting that whatsoever.

3)We most probably will have a lot of space travel in the distance future, so i have no problem there.

4) If a ham sandwich could wipe out half the solar system it would have to be a planet sized object, do you think we should be agnostic about planet sized ham sandwiches?

5) I'm not saying it is impossible that a tea pot is in orbit around the sun but I'm saying it is highly unlikely, far too unlikely to say i don't know about.

Finally if i asked you what 2+2 was would you say i don't know or 4? If you are looking for 100% certainty, you won't find it anywhere, that would mean you must say I don't know about everything.

Side: Atheism is more logical

Let me put it this way, If you tell people there's an invisible man in the sky who created the universe, the vast majority of people will believe you. Tell them the paint is wet, and they have to touch it just to make sure.

I picked atheism after studying religion because it is the logical, and might I add correct thing to do. I don't 'believe' the world is spherical, I know it, so all these religious people saying that they 'believe' in God is pretty much saying " I have less faith in God than I do a scientific theory going against what my religion used to teach."

I am not bothering to put much effort in to this because theists will read this and say " ah well that is illogical because the Bible says....." Whatever fanciful crap they wish to believe.

Side: Atheism is more logical

judgemaster(265)

Disputed