Do some forms of Plastic Surgery Defy the Hippocratic Oath?
The Hippocratic Oath is something all doctors must sign before they become doctors for the sake of morals and ethics. The original, classical, and the MODERN VERSION can be viewed here: http://en.wikipedia.org/wiki/Hippocratic_Oath
More information about it can be seen here: www.pbs.orgwgbh/nova/body/hippocratic-oath-today.html
However some people do not think that it is always used for those who deserve it:
The oath states: I shall apply, for the benefit of the sick, all measures that are required.
However it is not always for the benefit of the sick. Some people have their faces specially transformed so that they look better, and they may look fine. Some people just use it because they like lions.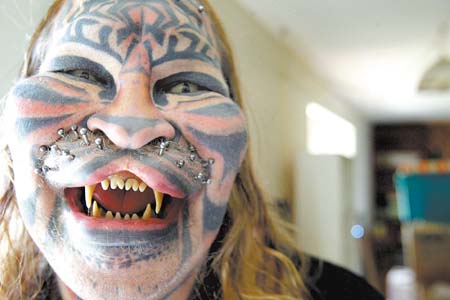 This man, Dennis Avner, had several modifications to his body to make himself look more like a lion. Many people think that this isn't ethical. What do you think? To look at more of his modifications look at this: http://en.wikipedia.org/wiki/Stalking_Cat
Sarah Burge in an interesting case too.
Is it a breach of the Hippocratic Oath?