Was a New York court right to strike down a ban on sugary drinks?
Another court ruling has taken the fizz out of New York City's ban on big, sugary sodas. A New York appeals court on Tuesday ruled that the city Board of Health exceeded its legal authority and acted unconstitutionally when it tried to put a size limit on soft drinks served in city restaurants.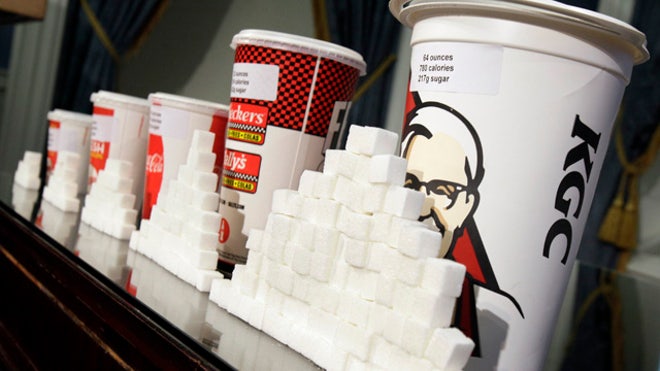 "The Board of Health overstepped the boundaries of its lawfully delegated authority," the court said in its decision.

The state Supreme Court Appellate Division, with its opinion, upheld an earlier ruling that stopped the ban from taking effect in March. The rule would stop many eateries from selling non-diet soda and other sugar-laden beverages in containers bigger than 16 ounces.

That stuff Isn't good for you.

Getting rid of this stuff adds more to the efficiency.

A healthier body means a healthier mind and with healthier mind things can be done more efficiently.

Sometimes giving people the choice to do certain things isn't the right way to go.

Side: Yes

Quocalimar(6470)

Disputed

Personally, I think we're heading towards a future where the majority of the U.S. will be overweight. Thirteen states are expected to reach obesity rates of over sixty percent by 2030. Something as small as capping fast food soda sizes could make a big difference.

Supporting Evidence:

Obesity

(www.washingtonpost.com)

Side: Yes

AbbyNestor(1028)

Disputed

It is the deprivation of liberty. Taking away the choices that the state has no business to. A man should be able to voluntarily purchase a soda larger than 16oz from any local provider he deems fit and well enough to suit his demands. When that option is taken away you are using coercion to control the populace's body types to which the populace should has total control of as long as they only control their own individual bodies. The state has no business intervening in business affairs and the health of the public if the public wishes to do this to themselves.

Side: Yes