8 year old Yemeni child dies at hands of 40-year-old husband on wedding night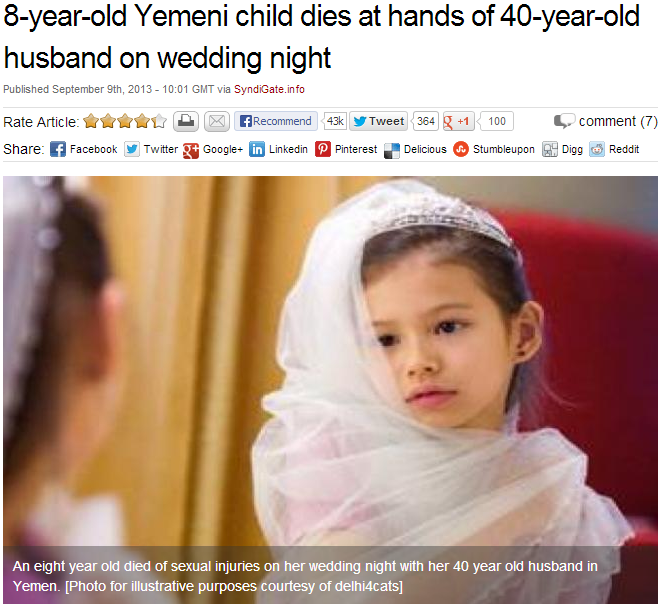 This news is 5 days old. I was waiting for someone to make a discussion topic but I guess I had to do it myself afterall.
Article here: http://tundratabloids.com/2013/09/yemenite-rape-marriage-goes-bad-on-first-night-8-yr-old-succumbs-to-injuries-from-her-40-yr-old-pedophile-husband.html
Centifolia
(1318)
Clarified
Centifolia
(1318)
Clarified
RandomDude
(1287)
Disputed
I looked into this from different sources, this case has yet to be confirmed but it is known that the poor in the Yemen do sell their children (not unlike poor people all over the world). Also this isn't sanctioned by the Muslim Church or State there are many leading clerics as well as the Minister For Human Rights calling for legislation minimum age for marriage stuff like that to try and combat child marriage.
Unfortunately there are also those who are against the legislation saying that a minimum age limit on marriage goes against traditional values (sounds a bit like the Christian excuse for Homophobia).
Hopefully the Yemeni government will get this sorted soon.