Could God be Gay?
I mean... he has no wife that I'm aware of? He had a son but we know he didn't want to have sex with the woman to have the son so.....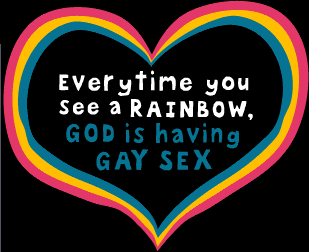 Lucifer was his one true love, and he betrayed him. Now he's mad at any gay man because they're "all the same" so they all go to hell with Lucifer. God was lonely without Lucifer and decided he wanted a kid. Following that he knew he'd have to try women, but the vagina scared him, so he magically implanted his semen instead so he could have a son. But his son was a pansy and wanted to sing kumbaya too much, so he had him killed slowly to toughen him up.

Side: Makes sense to me? Sure!

LeRoyJames(372)

Clarified

Dang it. I thought I had just invented the term "non-Euclidean theology", and I was pretty proud of myself too, but I just googled it, and it seems someone beat me to it. :(

Side: Makes sense to me? Sure!

What an interesting question to ponder.. hmm... yes.. I mean he could be, you never really know what's gonna happen these days! God never had a wife, or any woman to speak of, so maybe he used his 'divine powers' to impregnate Mary because he was gay..

Side: Makes sense to me? Sure!