Do Ghosts Exist? (Ghost Series by Explorer #1)
Ghost- The soul of a dead person believed to appear to the living in bodily likeness.
Note: This data comes from a July 12, 2005 Gallup Research Poll that can be seen here. It is possible that some of the data could of changed as 9 years have past. This however allows to view the long term trend. It is to note that the pictures given below come from the July 12, 2005 Gallup Poll. That being said it appears the percentage of Americans who believe in ghosts has stayed the same or even gone up to 45%. (Source 1)
Around 1/3rd of Americans believe ghosts exist. Contray to common thought it is actually the younger generation and the more politically liberal that seems to support the existence of ghosts. This is definitely ironic considering the facts that other supernatural phenomena such as God is not believed in as much in the liberal political camp. Although that being said, most people would expect both of them due to the common sterotype that liberals doubt supernatural phenomena. Does that reflect evidence for them?
Submit your evidence or debunking of the existment of ghosts below!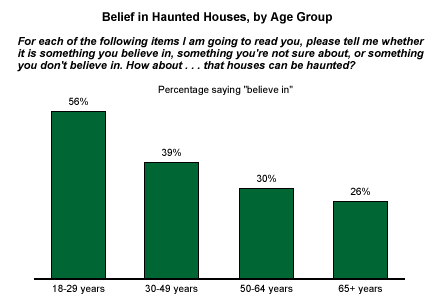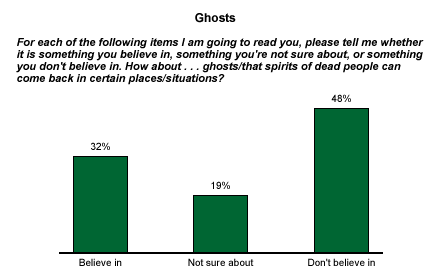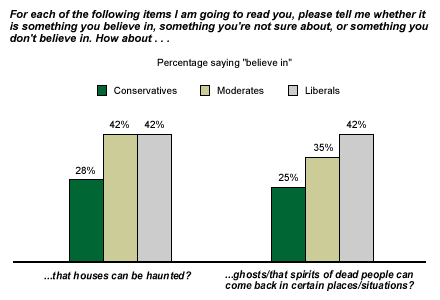 I saw a ghost when I was young so it is easier for me to affirm their existence in this crazy universe. This is something that you just have to experience because you obviously can't put it in a microscope and have it examined. Of course there are scientifically documented cases of accounts of these sort of strange postmortem phenomena, and evidences from psychical research.

I can point to a few awesome books….

Human Personality and its Survival of Bodily Death, by F. W. H. Myers

Ghost Hunters: William James and the search for life after death, by Deborah Blum

Children Who Remember Previous Lives, by Ian Stevenson (Carl Sagan noted that this authors work was well documented careful research in his book The Demon Haunted World)

On Dreams and Death by Marie-Louise von Franz (one of C.G. Jung's close associates)

Side: Yes