Can you trust politicians who pretend to be other races?
I listened to him for 20 minutes. It was like listening to nails on a chalkboard while a room of babies cried simultaneously.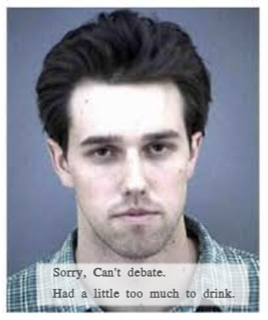 Nothing better than an Irishman using a Latino name to pander for votes while acting like an ass clown on acid.

Can you trust

Brontoraptor: "I have no legs."

Brontoraptor: "I have a degree in songwriting from Berkeley."

Brontoraptor: "Hitler was on the left. So was Mussolini."

Brontoraptor: "I live on a Cherokee Indian Reservation in Oklahoma."

Brontoraptor: "I'm a self-made millionaire (but I can't afford to leave my computer powered up)."

Brontoraptor: "I have your IP address. I have everybody's IP address."

Andy: "No you don't. That's impossible just based on the way the site handles traffic."

LOLOLOL!

You flap your stupid lying gums all day but nobody pays any attention to a word you say because you're a lying neo-fascist retard.

Side: Koo koo koo koo

brontoraptor(28865)

Disputed

brontoraptor(28865)

Disputed

Brontoraptor: "I have no legs."

True.

Brontoraptor: "I have a degree in songwriting from Berkeley."

Never said this.

Brontoraptor: "Hitler was on the left. So was Mussolini."

Well, both socialists. One carried a Marx medallion in his pocket...

Brontoraptor: "I live on a Cherokee Indian Reservation in Oklahoma."

Was true when I was younger. And that's exactly what it says at the entrance.

https://kellibradycontentknowledge.weebly.com/uploads/2/6/2/4/26247754/2878338.jpg?396

Brontoraptor: "I'm a self-made millionaire (but I can't afford to leave my computer powered up)."

True on first part. I turn it off because it's stupid to leave it running all day and night and overheats any device to do so. And then? You turned it off and frogoflondon screenshot you being logged off.

🤣🤣🤣🤣🤣

Brontoraptor: "I have your IP address. I have everybody's IP address."

Andy: "No you don't. That's impossible just based on the way the site handles traffic."

It tells me whatever I want once you exit the protection of the site and go to my site.

For example:

// Example API Call

https://api.ipstack.com/134.201.250.155?accesskey=YOURACCESSKEY

// Example API Response

{

"ip": "134.201.250.155",

"hostname": "134.201.250.155",

"type": "ipv4",

"continentcode": "NA",

"continentname": "North America",

"countrycode": "US",

"countryname": "United States",

"regioncode": "CA",

"regionname": "California",

"city": "Los Angeles",

"zip": "90013",

"latitude": 34.0453,

"longitude": -118.2413,

"location": {

"geonameid": 5368361,

"capital": "Washington D.C.",

"languages": [

{

"code": "en",

"name": "English",

"native": "English"

}

],

"countryflag": "https://assets.ipstack.com/images/assets/flagssvg/us.svg",

"countryflagemoji": "🇺🇸",

"countryflagemojiunicode": "U+1F1FA U+1F1F8",

"callingcode": "1",

"iseu": false

},

"timezone": {

"id": "America/LosAngeles",

"currenttime": "2018-03-29T07:35:08-07:00",

"gmtoffset": -25200,

"code": "PDT",

"isdaylightsaving": true

},

"currency": {

"code": "USD",

"name": "US Dollar",

"plural": "US dollars",

"symbol": "$",

"symbolnative": "$"

},

"connection": {

"asn": 25876,

"isp": "Los Angeles Department of Water & Power"

}

"security": {

"isproxy": false,

"proxytype": null,

"iscrawler": false,

"crawlername": null,

"crawlertype": null,

"istor": false,

"threatlevel": "low",

"threattypes": null

}

}

https://codeburst.io/locate-and-identify-website-visitors-by- ip-address-fe2417405293

Side: Looney tune