Is Egypt's Morsi the Worlds Latest Dictator?
Is Egypt's Morsi the Worlds Latest Dictator?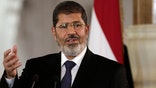 From Fox News:
Morsi last week declared himself and the two legislative bodies dominated by his Muslim Brotherhood to be above the reach of the nation's judicial branch. The judiciary responded by calling the decrees an "assault" on the branch's independence. Judges and prosecutors stayed away from many courts in Cairo and other cities on Sunday and Monday.
Read more: http://www.foxnews.com/politics/2012/11/26/obama-has-not-spoken-to-egypt-morsi-since-power-grab/#ixzz2DObfpQpK

garry77777(1794)

Disputed

Banana_Slug(845)

Disputed

Really it's a little early to wonder or question how dictatorial Morsi is or will become.

However, it's not too early to base an opinion on whether he's more dictator than president even though he's insisted he won't be another dictator, he didn't fool many people.

Well, he's not likely to nor is he expected to stand there and say to the Egyptian people "...By the way, I am going to be another dictator".

To conclude, I'd say at the moment yes, he is the latest dictator.

Reason being, as he's the main figure of the Muslim Brotherhood I'd have thought this would automatically win the side of the majority of Egypt as 90+ % of the country are Muslim.

Whether this will make it easier for him to dictate, we'll have to see...

Side: Dictator!