July 4 Parades Turn Kids Into Republicans
July 4 Parades Turn Kids Into Republicans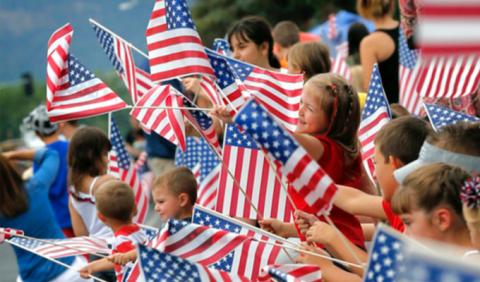 Attending a Fourth of July fireworks display or flag waving parade as a child slightly increases the likelihood that that kid will grow up to vote Republican, according to a study a team of Harvard University researchers.
Even a single July 4 celebration boosts the chance of turning a kid into a Republican, the study claims.
brontoraptor
(28598)
Disputed
Isn't it always interesting that the left tells us to not fear change but fears the change we are bringing. They tell us what America is, while changing what America is, but reject our version of what America is and are in fear of "changing" back to our version of America. When they say "what America is", they mean what they think will garner them votes.
Yes, the double standards of the Left is as bad as it could ever get.
They constantly speak with hypocritical forked tongues.
They rant about tolerance, and support killing the very Special Need's babies they tell us to be tolerant of.
They talk about women right's and inclusiveness and then try to stop Pro Life women from entering the Left's marches. They treat Conservative women like pariahs.
They say they hate censorship and then censor a community's freedom to choose or not choose a school prayer with no child forced to pray.
They say they love choice until it is school choice.
brontoraptor
(28598)
Disputed
As if that wasn't clear in the first place. You act as if patriotism is good in the first place. It really isn't.
Riiiiiight. While the left waves more foreign flags of foreign patriotism than you can shake a stick at, and liberals applaud it as if it's the greatest thing since sliced bread. I thought "be proud of your culture" was a leftist theme. Did you guys scrap that, or when you say these things is it really just anything that feeds a hatered for anyone illiberal and not in the groupthink hive...
FromWithin
(8239)
Disputed
It didn't used to be that way.
I remember when Independence Day parades, patriotic displays, and American flags were completely non-partisan, and very common.
We sang patriotic songs every day at school, right after the pledge of allegiance.
Republicans and Democrats alike flew American flags in our front yards and from our porches.
Car dealerships would fly strings of red, white, and blue banners all year.
The words American and of America were common parts of the names of businesses.
Apollo Creed wore star-spangled trunks for his first fight with Rocky, for heaven's sake.
If patriotism is primarily associated with Republicans now, it is not because there is anything intrinsically Republican about 4th of July parades and waving US flags.
It is less likely that the parades turn kids into Republicans, than it is that kids that are taken to Independence Day parades are already in social groups that lean Republican. I think the study's results are explained by many Democrats (voters, candidates, and politicians) not associating with that imagery to the same degree as Republicans. Obama even went so far as to denigrate the US, both in America and on his apology tour, and to deny American exceptionalism.
Conservanazi
(702)
Disputed