No Offense, But You're Ugly.
What's up with these people that start off a sentence with "No offense, but..." Do they think if they say 'no offense' and then follow it up with an insult, it won't count as an insult?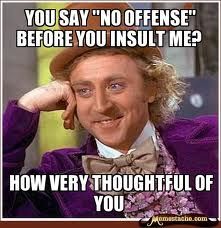 vandebater(444)

Disputed

troy8 no offence but I'm going to tear another asshole in your mother. Your a fucking retard and I'm doing it just to spite you. Every waking moment your on this earth you hold humanity back with your stupidity and it pisses me off. and your debating skills? the most intelligent thing you've ever said was "not so hard daddy imma bleeeed" when your dads dick was in your ass. You aren't good at anything and man your an ugly fucker. Id kick your ass for the lulz (yeah with a u you couldn't possibly say anything to diss me so I'm gonna be cocky) but your face is so ugly i wouldn't be able to see the damage and therefore would receive no lulz. hey maybe you could give me some tips cause your such an expert on receiving? where is your LALALA I CANT HEAR YOU NOW! (this honestly is no offence haha just proving a point)

Side: Douche bags

moderatemark(481)

Disputed

No offense, but I don't think it's all that sarcastic in that context, but if you're going to be an ass, a "blatant" ass is the best kind of ass to be. I thoroughly detest those people who fully intend on being ass, but they try to hide it behind measured nuance. It's like just come out with already. You think I'm a fucking bum!

Side: Douche bags

I think it's just to soften the blow a little bit. We live in a society that encourages people to lie to each other. Because of that, a lot of people can't handle honesty. I personally prefer "the no offense people". They usually give me information that I can use, rather than blowing a bunch of smoke up my ass to try to make me feel good. They "no offense guy" is usually doing me a favor.

Side: Meh?