Should hotels/motels be obligated to prevent child exploitation within them?
If a grown man purchases a night at a hotel/motel with a child, should the hotel/motel take any steps to insure the safety of that child?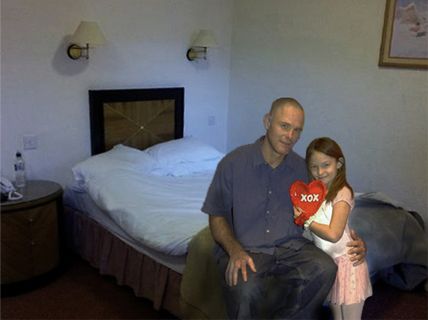 The above image is of a man, a little girl, and the inside of a hotel room. No accusation of sexual misconduct is being expressed against him.

Hey wow. You found a picture of me and my daughter on facebook and thought that would be a classy way to get back at me for showing everyone here at the site that you are a big fat fibber.

So you are a creepy stalker type AND a liar. Way to introduce yourself on CreateDebate!

Side: Yes

Intangible(4933)

Clarified

I've changed my mind, I don't think there should be any obligation. Checking paternity isn't something that is easy to do because that kind of paperwork isn't what people carry on them day to day. I think they should call the police if they see anything suspicious, but aren't obligated too, although that would just make them terrible people.

Side: No