As Usual, Brontoraptor Is Desperate To Move The Topic Away From His Trips To Pakistan
What an absolute shocker guys. Plenty of upside down alternative "facts". Plenty of Nazi propaganda from the 1930s. Plenty of puppet account spam and fake upvoting.
Not so much about his inadvertent admission that he frequently travels to Pakistan seeking sex with underage girls.
This sick little Nazi is literally worse than Trump's good friend Jeff Epstein. At least Epstein isn't a fascist.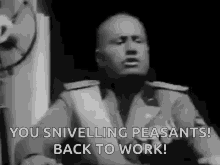 brontoraptor(28874)

Banned

JammyDodger(60)

Disputed

What's even funnier

Nothing is funnier than your absurd misrepresentation of every quote you ever get your stupid little hands on.

your attempt to claim Fascists weren't Socialists

LOL! My attempt? That's hilarious. They are diametrically opposed political opposites. Fascists want an authoritarian state with a socio-economic hierarchy and a supreme leader (i.e. you and the shilling you do for Donald Trump) and socialists want complete equality, no hierarchy and no government (i.e. what I want).

Your far right propaganda, bullshit and lies is boring and fucking stupid. Go away you moron.

Side: Perverted Liar

BrontoLite(44)

Disputed

brontoraptor(28874)

Banned

We're still waiting for you to refute George Orwell buddy.

"the Communists stood not upon the extreme Left, but upon the extreme right. In reality this should come as no surprise, because of the tactics of the Communist parties elsewhere."

George Orwell, Homage to Catalonia

https://www.biographyonline.net/socialism-george-orwell/

Side: Perverted Liar

JammyDodger(60)

Disputed

We're still waiting for you to refute George Orwell buddy.

No "we" aren't. You have once again deliberately omitted the first part of the quote in order to misrepresent what Orwell wrote. The actual quote reads:-

The only unexpected feature in the Spanish situation — and outside Spain it has caused an immense amount of misunderstanding — is that among the parties on the Government side the Communists stood not upon the extreme Left, but upon the extreme Right.

https://ebooks.adelaide.edu.au/o/orwell/ george/o79h/chapter5.html

"the Communists stood not upon the extreme Left, but upon the extreme right.

In which case you should be best buddies with them. I'm sure you and Stalin would have gotten along like a house on fire. Two pathological sociopaths in a pod.

Banned for deliberate misrepresentation (i.e. extreme far right propaganda)

Side: Lying Pervert